Now that summer has ended, the air is cooling and the leaves are beginning to change colour, one cannot help but anticipate the arrival of Halloween. Known traditionally as All Hallows' Eve, this popular fall holiday, with its rituals of trick-or-treating and dressing up, captures the imagination of kids and adults alike.
Less known, perhaps, are the celebration's Christian roots; for, October 31 marks the vigil of an important feast—All Saints' Day.
The Church calendar is filled with hundreds of feast days, many of which are dedicated to honouring the memory of a particular saint (or saints) throughout history.
These occasions are undoubtedly valuable in themselves, as parishioners are asked to recall the inspiring and heroic example of a wide array of holy people—something that, indeed, is the goal of this series on the saints.
But there is only one day of the year that calls us to consider the concept of sainthood itself. On All Saints' Day (November 1), Catholics around the world engage in solemn commemoration of the totality of Christian saints. Rather than addressing the life and example of a particular holy person, this holiday is all about contemplating what it means to be someone worthy of veneration.
So, in anticipation of All Saints' Day, this month's article will diverge from our usual focus on individual saints, in order to illuminate the underlying themes. Particularly, it will consider what exactly the existence of saintly people means for the rest of us, as ordinary human beings.
This is a valuable exercise, as it presses us to answer that tricky question often posed to enthusiasts of history: "Why should I care?"
Saints as soldiers
---
The Venerable Bede (c. 673-735), a monk, scholar and prolific medieval writer from what is now England, offers us an answer.
In the eighth century, Bede composed a sermon to be delivered on All Saints' Day (which, in the early Middle Ages, fell on May 13). In it, he relays an impassioned, apocalyptic take on the significance of the holy dead—one that certainly encouraged contemporaries and remains useful to us today. He begins,
"Today, beloved, we celebrate the joy of one solemnity, the festival of All Saints, in whose companionship the heaven exults … by whose triumphs the Holy Church is crowned … because while the battle increased, the glory of them that fought in it was also augmented."
Right away, Bede reveals something fundamental about how he views saints. To him, saints are soldiers, both literally and metaphorically. On the one hand, they are very real soldiers in light of their martyrdom. Indeed, the earliest were simply those that had lost their lives at the hands of the Roman authorities, on account of their faith.
During the first centuries of Christian history, the act of martyrdom was viewed as the ultimate sacrifice, one that guaranteed eternal glory with God in heaven. From this, it followed that since they were in the company of God, the martyred dead could be called upon for their intercession. This is how the cult of saints began, a phenomenon that can be traced at least to the early third century.
By the time of Bede, there had emerged a newer and more 'accessible' form of sainthood. With the legalization of Christianity in the fourth century, and its eventual designation as the Roman Empire's state religion, the opportunities for martyrdom began to dwindle. Still, the popular fascination with the idea of martyrdom persisted—although it needed some modifications.
Indeed, now that Christians were no longer being persecuted, it became necessary to spiritualize the notion of sanctity. Hence, the beginning of concepts of 'white' as opposed to 'red' martyrdom; 'white' because unlike 'red' martyrdom, no blood is shed. Accordingly, Christians began to venerate as saints those who led exemplary lives of spiritual and religious discipline—this was understood as a form of holy death itself.
Bede's description, which uses military language, is therefore a reference both to the martyrs of the early Church, and to those saints known for their pious lives.
End-time reversals
---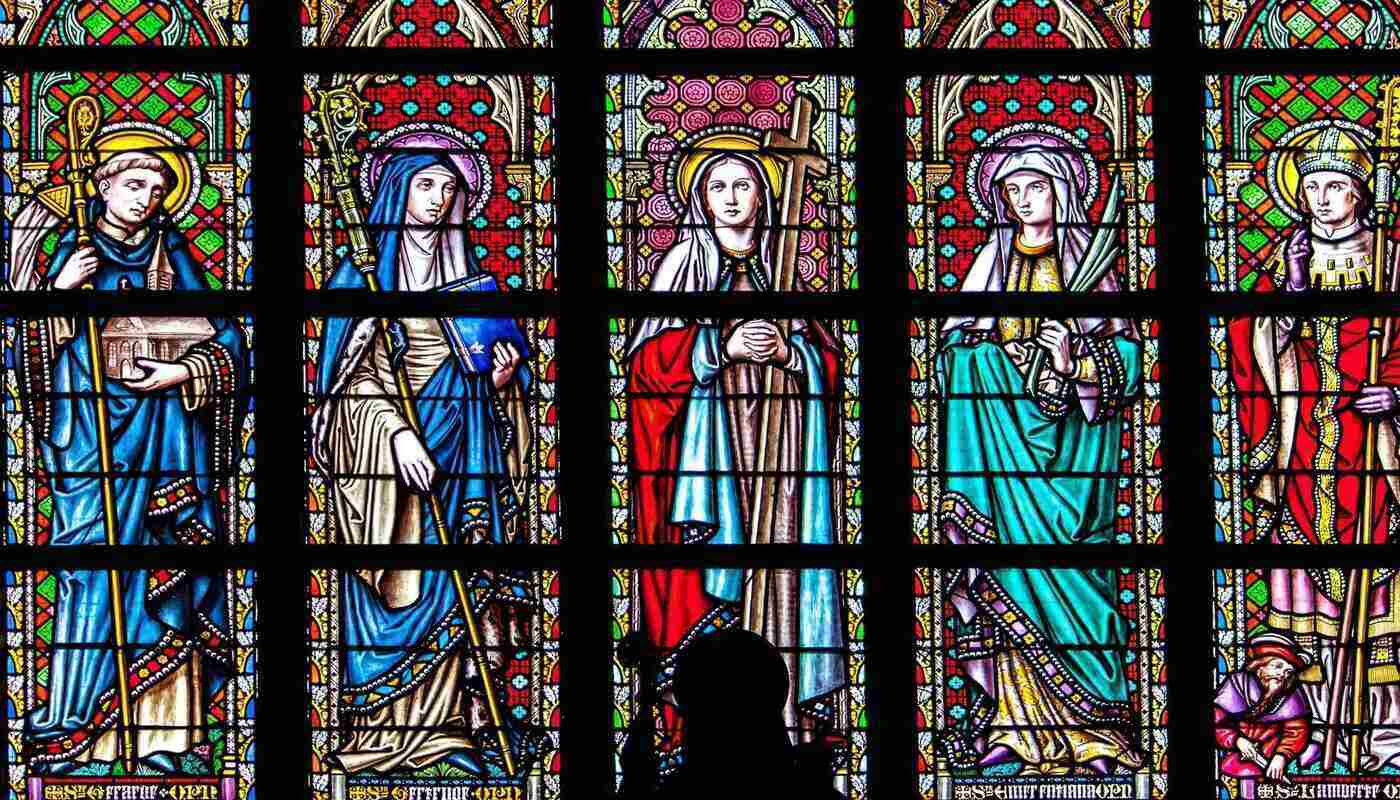 According to Bede, in heaven, Christian soldiers are rewarded with "crowns, snow-white for chastity, or purple for passion," are "adorned with stars" and "purple diadems," and most importantly, attain entry to the "palace of that eternal court."
The afterlife, then, promises a stunning reversal of one's earthly fortunes. Beaten down by the scourge of the persecutor's whip, the martyrs triumphed in heaven, where, like the worldly princes that once ruled over them, they attained majesty, worthy of great reverence.
Unlike secular lords, the prestige of the martyrs was actually warranted, for they represented that which was unambiguously good. These were the true princes, much like how, in opposition to the Roman imperial cult, Christians worshipped Christ as their emperor. Bede continues:
"For the ineffable and unbounded goodness of God has provided this also, that the time for labor and for agony should not be extended—not long, not enduring, but short … that in this short and little life should be the pain and the labors, that in the life which is eternal should be the crown and the reward of merits; that the labors should quickly come to an end, but the reward of endurance should remain without end; that after the darkness of this world they should behold that most beautiful light …"
The contrast between this life (which, according to Bede, is short, painful and full of darkness) and the next, which is eternal, rewarding and brightly shining, illustrates the theme of reversal most evocatively. Here, one cannot help but be reminded of Jesus' prophecy, according to the Gospel of Matthew: "when the Son of Man will sit on his glorious throne … many who are first will be last; and the last, first."
Bede's preoccupation with opposites is indeed perhaps related to Christianity's apocalyptic origins. Likely inspired by John the Baptist, Jesus of Nazareth preached about the imminent arrival of God's Kingdom. This was to be a momentous and triumphant time, when God would again intervene in history, casting his judgment upon the world.
Central to this message was a thoroughly dualistic outlook, whereby people were divided into two neatly defined categories of "good" and "bad." The former included all those that had chosen to side with God in the face of apocalypse, and the latter, everyone else, whose evil would ultimately be met with destruction. The Gospel of Matthew relates,
"The Son of man shall send forth his angels, and they shall gather … them that do iniquity, and shall cast them into the furnace of fire: there shall be the weeping and the gnashing of teeth. Then shall the righteous shine forth as the sun in the kingdom of their Father. He that hath ears, let him hear."
The options couldn't be more stark: either repent and choose life, or remain obstinate and die. This kind of absolute language appeared some 700 years later in Bede's sermon for All Saints' Day, where he too paints a very dualistic picture of the universe.
"Not by resistance, but by endurance"
---
The theme of dualistic reversal, as it pertained to the saints, was clearly meant to encourage even the most ordinary Christians:
"But the rest of the multitude of the faithful shall also enter the palace of that eternal court, who in peaceful union have observed the heavenly commandments, and have maintained the purity of the faith."
Salvation was, thus, not only the preserve of the saints. It was open to all people, on the condition that they maintained their excellence of conduct, as well as orthodoxy. Put simply, they needed to live a life pleasing to God.
Still, even this was no easy feat. Sure, the days when Christians were executed for their beliefs had long passed. Nor did a majority of people in medieval Europe ever experience the difficult rigors of monastic living. Yet, from another perspective, so-called 'ordinary' people nonetheless had their own battle to fight, much like our own.
Like the Christian soldiers alluded to in Bede's sermon, all of us, by our very existence, necessarily contend with struggle. This is a realization correctly identified in the Buddhist tradition, which holds that duhkha (perhaps translated as "unsatisfactoriness") colours the human condition.
All people, for instance, no matter how happy or well-off, must grapple with the universality of death. We must face not only our own mortality, but that of those around us; not to mention, the impermanence of material goods.
On a less immediate level, there is also the utter futility of attempting to grasp at reality by using only the domain of convention (thought and language), which is a hopelessly inadequate medium, and the frustration that this brings. In the end, no matter how hard we try, things will rarely be the way we want them to, provided that we are intent on compartmentalizing and classifying aspects of our experience.
With that in mind, Bede was right to encourage us to be strong, "not by resistance, but by endurance." Resisting that which is—that which cannot be changed—will only bring us suffering. We must instead learn to accept things the way they are, and if the way things are proves unsatisfactory or painful to us, we must proceed first and foremost with fortitude. Learning to loosen our grip and constant desire to control reality is but the first step toward achieving this.
"Worthwhile to endure hell itself for a season"
---
Yet, sometimes the hardships of life feel insufferable, to the point at which we might find ourselves questioning, "Is it even worth it?" What good could possibly come from endurance, if that which we are enduring is too damaging to bear?
As Bede reminds us:
"but to attain to that ineffable sight, and to be made radiant with the splendour of His countenance, it were worth while to suffer torment every day—it were worth while to endure hell itself for a season, so that we might behold Christ coming in glory, and be joined to the number of the saints."
This is the final meaning of All Saints' Day. Indeed, the idea of sainthood ultimately reminds us that God is to be found in the midst of adversity. He is there in the form of hope—hope that what we are going through will eventually end, and that we will, in some way, be rewarded by the experience, no matter how terrible—even if this means simply learning a valuable lesson.
In this sense, Bede's fascination with the theme of reversal rings true, as out of the filthiest mud can blossom the most beautiful lotus.
So, this November 1st, let us remember two things. First, that life is full of suffering. Second, that our endurance, despite this fact, makes us all saints in our own right. For greatness is achieved only when something not-so-great is overcome. Thus, it is precisely those that have been through the most that shine out the most brilliantly.
Read the previous article in this series, GIVE ME SILENCE OR GIVE ME DEATH: The hermit Peter of Morrone»
---
image 1 Photo by Paolo from Pexels 2 Image by Jeroným Pelikovský from Pixabay  3 Image by Devanath from Pixabay 4 Image by falco from Pixabay 5 Photo by Nick Bondarev from Pexels