I am sitting in Jon's bedroom, when something catches my eye. I start to laugh. Underneath his night table is a mini-cooler stuffed full of my essential sleepover items: a clean pair of socks and underwear, a long-sleeved T-shirt, hand lotion, deodorant, melatonin tablets and a copy of The Guru of Love by Samrat Upadhyay. Jon comes into the room to see what's up.
"Well, I've heard of trailer trash and condo trash, but cooler trash—that's a new one, don't you think?" I say, in between fits of laughter.
Cooler trash. My life, my entire material existence distilled into what fits into a small beer cooler—minus the beer—although that would have been an ironic touch. What a metaphor for the nomadic life that I have been leading of late. I am now one of those people who carries a toothbrush in my makeup case, along with tweezers, nail clippers and a small deodorant.
I've been back from my travels for over a month now, and have yet to settle into a permanent home. I spend some nights here at Jon's, some at a friend's house in the city and a lot of time in my car going back and forth.
Finally, I move into my little house on the hill. My life starts to fall into place, as I unpack the last of my boxes. After months of living out of a very small suitcase, and then my 'cooler phase,' I am overwhelmed by so much stuff appearing back in my life, after moving everything out of my storage locker.
I'm reminded of George Carlin's routine on stuff. "That's the whole meaning of life, isn't it, trying to find a place for your stuff? If you didn't have so much goddam stuff you wouldn't need a house."
Kathmandu
---
In Kathmandu, the only way to cross the insanely busy and chaotic streets was to attach myself to a friendly local, as they themselves were crossing the street. I would look for kind, motherly types, and then smile and watch their faces light up with amusement as they realized what I was up to.
Nepalis are fearless; they launch themselves into traffic, and miraculously, mostly survive. The streets are treacherous. There are few streetlights, and there are often blackouts in the city. There are potholes the size of small ponds, and motorists who enjoy driving with their lights off.
From Pokhara, I embarked on a week-long trek with my guide and porter, B.K. Even though it's considered an entry-level trek, I found it challenging. B.K. encouraged me to go at my own pace, and for that, I was very grateful. I watched the sky, admired the unusual butterflies and smiled at the local Gurung and Magar villagers as we walked through the jungle. We stopped for tea often.
It might have been the altitude, but I found that even my daypack, which only contained the basics—water bottles, a small snack and my camera—weighed me down. B.K. carried my knapsack on his back, while also carrying his on his front. He looked like some kind of primordial turtle with two shells.
He woke me before dawn to prepare for the final ascent to Poon Hill, the key lookout on the Ghorepani trek, where we watched the sunrise at just over 10,000 feet (about 3,048 metres). Even though the final steps were torture, he kindly urged me on: "Just one more step, slowly we go."
And then, in one last push, we were at the top and the panoramic view overlooking the mighty five mountains—Dhaulagiri, Nilgiri, Machhapuchhare, Annapurna II and Lamjung—brought tears to my eyes.
"It is magnificent, isn't it?" he said. "This is the closest that you will ever come to God."
Downsizing
---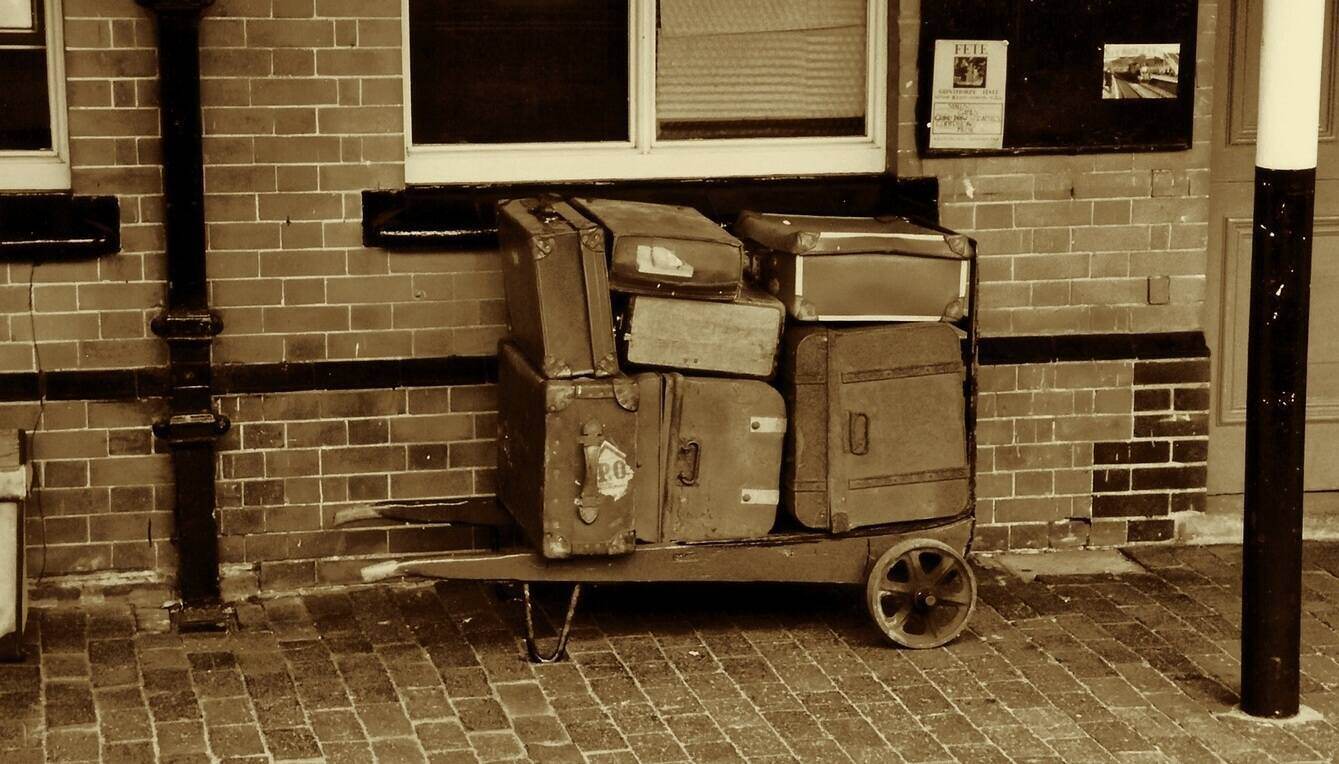 It's many years later, and the little house on the hill, the relationship with Jon and my adventures in the Himalayas are ancient history. I have to laugh when I think back to that cooler that once contained all of my most essential items. How light and fluid life seemed back then.
There have been many moves in my life. I remember packing while six months pregnant, with a toddler at my heels, barely able to reach into the bottom of the box with my bulging belly. I remember leaving my family home and taking only essentials with me, so that my ex-husband and kids' lives would not be too disrupted.
And of course, the most significant move in my life, when my family left war-torn Budapest in the middle of the night, with only the clothes on our backs, fleeing from the oppressive Soviet regime to find refuge in a strange new land.
It is now COVID-19 times, and the world has irreparably changed. We are no longer travelling, and have become used to a smaller, nested life.
This most recent move finds me sorting and packing and downsizing. I look around at the dozens of boxes, piled high with colour-coded labels, and I realize that once again, I've accumulated a lot of stuff. I sort through my possessions and make piles to sell, give away and discard. It feels good to shed some of the pounds of those years and lighten my load.
The nesting instinct
---
I never imagined myself a nomad; I am a homebody at heart, even if that seems like a contradiction. My daughters say that whatever home I create for myself smells like me. As an aromatherapist, I admit that one of the first things I do in a new space is fill it with scent, like a cat spraying its territory, only with ylang ylang, neroli and vetiver.
My nesting instinct is strong, and I love to surround myself with beauty. Coloured textiles, photographs and oriental rugs find their place in my new home, and remind me of my travels. The exhilaration of adventure finds a balance in the stability and comfort of home; I am a true Libra in these expressions.
Moving always brings me back to what is essential in my life. It's not about the possessions; it's not even about the memories. It's about a life lived, rich with the deep connections that we make along the way.
I'm also aware that every step of this journey leads me one step closer to death, the ultimate journey. That awareness is bittersweet; it cracks me open. There is nothing that I can take with me on that move, so it's best that I'm lightening my load right here and now, and stepping lightly into the next.
«RELATED READ» LIVING WITHOUT: 8 benefits of living in a small home»
---
image 1 Image by Ron James from Pixabay 2 Photo from PxHere 3 Photo from PxHere